Hall Rentals
Laurier or Heritage Room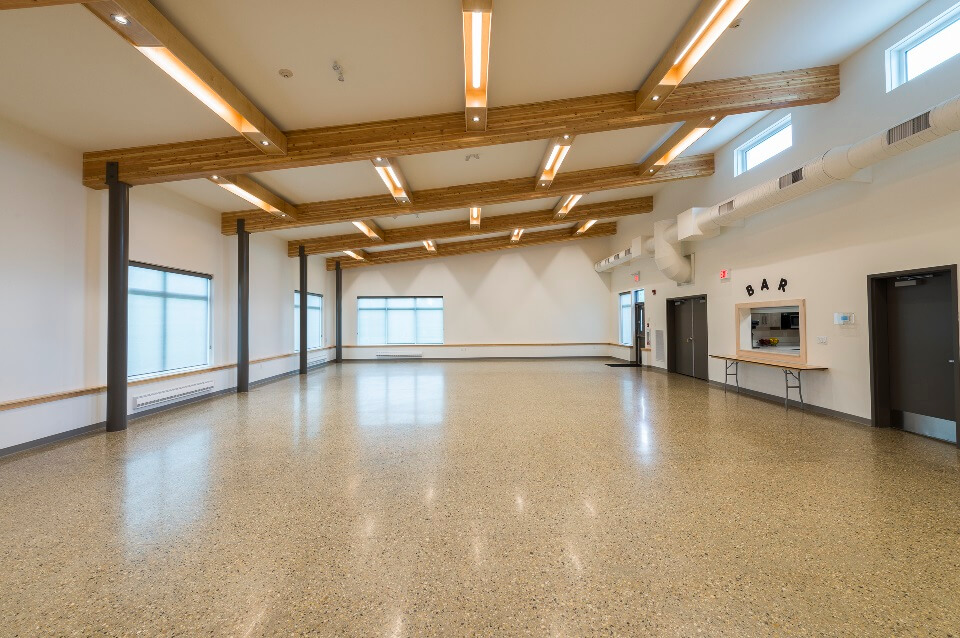 Our hall address is 14405 85 Avenue.
Parking
There are 29 parking stalls, including 2 handicap parking stalls, in the parking lot accessible from 80 Avenue (turn North on 144 Street). Plenty of additional parking available surrounding the park along 145 Street, 83 Avenue and 85 Avenue.
Rental Guidelines
Renter must be at least 25 years old.
Damage Deposit required.
Event Insurance required (*see note below)
Liquor licence required if any alcohol is present, non-sale and re-sale.
Any third party service or entertainment hired by the renter must also be insured.
*Foster Park Brokers Inc. provides short term rental insurance that may be required for your booking, regardless of liquor being present. Go to www.fpb.ca. Please allow 1 business day for processing. For events over more than one day please contact Foster Park Brokers Inc. at 780-930-4183. You may also seek event insurance from a broker of your choosing.
Hall Rental Rates
Effective July 1, 2018 rental guidelines and rates have changed. We will now be renting our new hall, the Laurier Room, to residents of other communities under certain conditions that include, but are not limited to the following criteria:
Is the renter an active member of their home community?
Are the majority of the attendees over 25 or under 18?
The event is NOT a "hall party".
Rates are very competitive but are not published. We would be happy to provide you a quote via email to rentals@lhcl.ca.
Weddings
We offer a special weekend wedding package that includes both halls from Friday at 4 pm until Sunday at noon. To ensure that the hall is available for community events we do not take bookings more than 6 months ahead of time.
Laurier Heights members who are community residents and want a date in July or August can book up to a year in advance.
For More Information
Please contact Shannon by email at rentals@lhcl.ca for more information.
Rooms Available to Rent
We have 2 rental halls available for rent: the Laurier Room and the Heritage Room.
Laurier Room
Laurier Heights Community Members
Non-Laurier residents but active members of their home communities
Construction completed March 2016.
Ideal for large family gatherings, catered events, weddings etc.
Large banquet hall complete with table, chairs, dishes, cookware etc.
Large modern kitchen with a gas range, 2 ovens, 2 refrigerators, 1 small deep freeze, 2 microwaves and 2 dishwashers.
15 round tables for up to 8 people.
6 Rectangular tables for up to 8 people.
4 Long Narrow tables for buffet
120 guests at tables or 143 theatre seating
Events over 140 people have been accommodated by adding the adjoining Heritage Room.*** see a more complete list of amenities here 
Heritage Room
Members and Non-members
Built over 60 years ago.
Ideal for small gatherings including children's birthday parties.
Also great for outdoor events where only bathroom and/or kitchen access is required.
10 rectangle tables and 42 chairs.
Maximum capacity is 50 people.